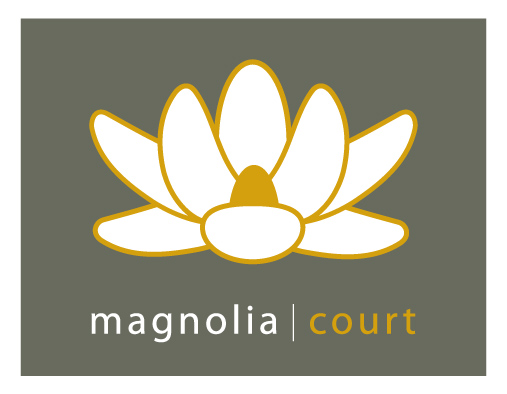 Magnolia Court is a 52-unit affordable senior community on a 1.4 acre parcel offering studios, one and two bedroom apartments. Amenities include a recreation room, 24/7 onsite management, laundry facilities, an ample outdoor garden area, and owner-provided high speed internet in each unit. A solar water heating system supplements two ultra-high efficiency hot water heaters providing primarily solar heated hot water for the entire development, and a photovoltaic system will supply electricity for most of the common area requirements. Magnolia Court is located within walking distance of grocery, retail, restaurants, medical offices, entertainment and the local library.
Architecturally similar to a geode, the exterior of this development was designed to integrate seamlessly with the existing community and gracefully compliment the surrounding properties. The courtyards provide community gathering areas with outdoor barbeques, quiet areas of respite, and an interactive gardening area for resident's enjoyment. On the outside, an activated street front includes unit entries and private porches similar to those of neighboring single family residences.
Previously an eye sore, Magnolia Court has an underground storm water retention system designed to retain and regulate discharge of storm water runoff from surrounding properties. The water is recycled and used to irrigate the projects landscape. The underground storm water retention system at Magnolia Court is a creative engineering solution that facilitated the development of much needed affordable housing serving Manteca's aging Baby Boomers.
View Magnolia Court's Live Solar Power Stats